Koala-T-Kare offers two playgrounds, two large-motor multi-purpose rooms, and has a designated art space for all of the classrooms to utilize.
Our first outdoor playground is made of composite decking material to provide a smooth, durable surface for our children under the age of two. This space allows our infants and young toddlers to explore the outdoors, have large-motor time, and get some fresh air. An awning covers the play space to provide shade for the children in during the summer months. Our older toddlers and preschool classrooms have a separate playground that contains a Rainbow System play structure, sandbox and water tables, outdoor building blocks and more. The teachers love to utilize this area, and will often bring the classroom outdoors with them. The children will often do music, story times, and art projects in this shaded space.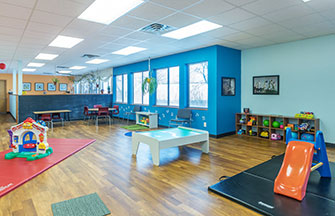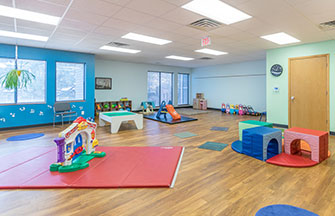 When the Wisconsin weather doesn't permit us to go outside there are two multi-purpose play areas for our children to utilize. These spaces allow the children valuable time out of their regular classrooms, and a safe space for them to use the large motor muscles.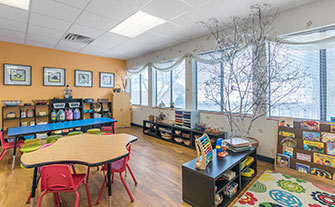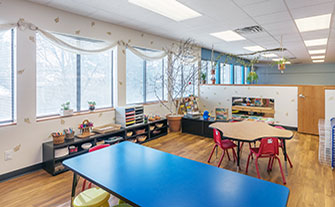 Koala-T-Kare is fortunate to have a designated art space for our children to use. This unique area provides a space for all of our children to get their creative juices flowing. There are painting materials, 3D art and collage making materials available, along with the opportunity for group projects.